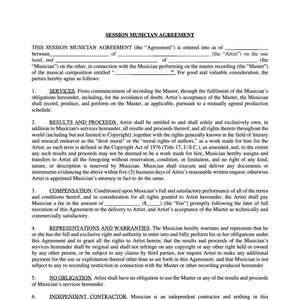 Hiring session musicians to work on your song?
This is a 2-page template session musician agreement, written for situations where one is paying a musician a flat fee, in exchange for all rights to the music he or she creates. In this case, the musician is not being paid a royalty,  maintaining any ownership of the underlying composition, or receiving any sort of credit.

Questions/Issues? Email adam@acfreedmanlaw.com
Disclaimer: These materials are made available for informational purposes only and not for the purpose of providing legal advice. Purchasing this template does not create an attorney-client relationship between The Law Office of Adam C. Freedman, PLLC and the purchaser. You should contact your attorney to obtain advice with respect to any particular issue or problem.