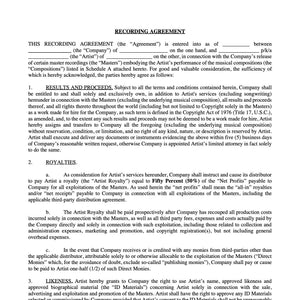 Starting a label? This is a 4-page template recording agreement, written from the label's perspective, intended for labels to provide to artists seeking to release music with you. 
This agreement provides that the artist will sign over ownership of their master recordings, in exchange for splitting the profits with the label 50/50. All revenue will go towards recouping expenses, then once recouped, the artist will get paid at the same time as the label.
The artist will maintain ownership over the publishing side of these songs, and is simply licensing the rights necessary for your label to release the music. Nevertheless, it's up to the artist to register the songs and collect any publishing royalties.
Questions/Issues? Email adam@acfreedmanlaw.com
Disclaimer: These materials are made available for educational purposes only and not for the purpose of providing legal advice. Purchasing this template does not create an attorney-client relationship between you and The Law Office of Adam C. Freedman, PLLC. You should contact your attorney to obtain advice with respect to any particular issue or problem.